Dealing with Disputes and Conflict. A Self-help Tool-Kit For Resolving Arguments in Everyday Life by Tony Whatling
As the value of mediation to resolve many different types of disputes becomes increasingly recognised so too does the need for mediators who can adapt their skills to a wide variety of situations.  This does not just require professionals to be more flexible: it means that people without any formal training in mediation need a firm grasp of what the role involves and how to use it. This is the important gap that Tony Whatling's new book is designed to fill, and it does so with his customary combination of insight into what really matters in mediation coupled with his ability to make accessible some subtle skills.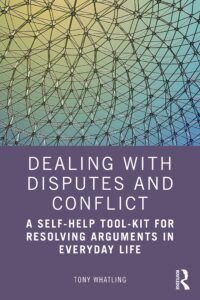 Tony is perhaps uniquely qualified to speak to those whom he describes as 'lay mediators' – "those who are not trained, qualified or experienced in a particular activity or subject" – whose jobs in schools, health and social services, local authorities and private companies require them to deal with the myriad of disputes that can cost employers time and money by undermining trust and corroding relationships.  He brings to this "Self-help Tool-kit" three particular qualities which will make it invaluable to his intended readers and practitioners everywhere. 
First, Tony brings over fifty years of experience working with individuals and groups in many different contexts and cultures, and this is reflected in a markedly non-doctrinaire approach to mediation: he knows that every single dispute is different and therefore every intervention by a mediator needs to be individually designed and managed if it is to be successful.  Secondly, his approach recognises that most people are good at solving problems and repairing relationships because they already do it, so his focus is to build on these everyday skills, such as listening, summarising and responding empathically, and add to them some of the key ideas, knowledge, principles and 'technical' skills that professional mediators bring to their work. Thirdly, Tony avoids the theoretical rabbit holes down which some texts designed for professional mediators can too easily disappear.  So you will not find here any arcane conjectures about the causes of conflict, arcs of negotiation or models of mediation beloved of academics or the more legally-minded: Tony is the practitioner's practitioner, who uses down-to-earth language, realistic examples and clearly described methods to distil a lifetime's experience into key learning points.   
Do not, however, mistake clarity and concision for lack of depth: there are lessons in this book for experienced mediators as well as for those who find themselves in this role.  His observations on the use of apology, for example, and on the value of reflective practice, are both pertinent and significant for all of us. 
Finally, it is a privilege to be asked to introduce a book by someone so widely admired and respected in the mediation field who has already done so much to broaden and extend the practice of mediation. 
Andrew Floyer Acland Coombe April 2022 
Available for pre-order on Amazon.